Accountants/Financial Website Copywriting?
Would you like a new website voice and style guide for your accounting or financial services company?
Helping small businesspeople around Australia and Brisbane, Power of Words' copywriting services are easily accessible. We can help you with your website writing, style guide, and new prospect guides.
Some of our favourite topics are:
* Superannuation and SMSFs pros and cons
* Retirement planning and saving a nest egg
* Small business tax planning (proactive accounting)
* The benefits of Asset Protection and Trusts
Or try us out with a new topic you'd like written up or provide as a downloadable guide. We'll do all the research, plus understand your company's values and mission, to make it connect on an emotional level.
Examples of Accountant website copy
For ATBS (Accounting Tax and Business Solutions) directors, their aim was to replace the nondescript text on their templated website with customised copy that spoke to small business people's unmet needs. They wanted to put across their way of working with clients (proactively) and highlight their B1G1 promise.
Unfortunately, the website developer skipped the country and so this copywriting never became public. This is just not on, because the directors at ATBS are just so nice. Please enquire for the full ATBS website copy draft.
Jennifer has written for many accountants and financial services, including property investment companies.
Here is a copy editing sample from US Tax Central
Here is a copy writing sample: ATBS Accountants website sample.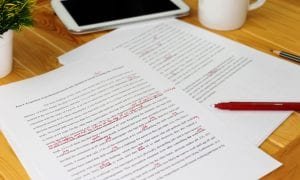 Grammar Checked
As Jennifer also edits books for a living, she has learnt even more about grammar in these past five years. It pays to have these editing skills when looking afresh at the piece.
She received a high distinction in Principles of Editing at University (UWS).
Understanding Small Business Needs
Working with small business owners regularly, we understand their needs, particularly if in services. So, our wording does not need a higher degree to understand it. We leave out the corporate jargon!
A full brief will alert Jennifer to the kind of language your audience will appreciate, and the kind of calls to action that you could use.
Results
Website copywriting, brochure copywriting, and press release writing is all about getting results for your company. Far more than simple 'awareness', our copywriting is designed to get under the skin of the reader and understand their deepest needs. This has the best chance of getting them to take action. Ca-ching!
---
Call for an initial chat.
Book in for a discovery call to discuss your project scope, budget, timeline and goals.
Portfolio
Featured Copywriting
It takes passion, genuine care, and the flair for the creative to take on a project and to create real results. See what we've been up to and how we've helped our clients expand their digital capabilities.