"We highly recommend the services of Jennifer Lancaster of Power of Words. She offers value for money and excellent design and technical support. We needed a fairly technical environment policy manuscript finessed into contents-and-cover files suitable for upload to print-on-demand. Through the many iterations of this task, we found Jennifer to be highly responsive and professional.
With Jennifer helping, we got a great book design at a reasonable price, assistance was on hand for the upload, and we were pleased with the crisp appearance of the resulting print title. Thank you, Jennifer." 
– Kathleen Mackie and Stephen Saunders, Canberra, 2018.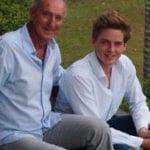 POD sounds easy, but there's a massive difference between an amateur and a professional when it comes to presentation. We stumbled around for weeks doing our best to make our book, There's a Gold Mine in Your Head look like a real book. Then we found Jennifer. In a matter of days, it came back looking like a real book, ready to send off. Not only that, but Jennifer gave us some great tips on self-publishing and contacting libraries, and she was always available when we hit another roadblock. We can't recommend her services highly enough.
– Donald and Harry Stallman, Authors of There's a Goldmine in your Head.
Just wanted to let you know we have received the hard copy proof of Jessie's House of Needles and it has turned out just as we had hoped it would.
Thanks again for your help in the production.
– Alison and John Algate
Jennifer Lancaster edited my book, "Creating Healthy Life Habits." I was very impressed with both Jennifer's efficiency, professionalism, and attention to detail. Jennifer made recommendations to the text, making suggestions to change sentences or the order of words, so that it read better, and also picked up some minor but very important grammatical and punctuation errors. I was very happy with her suggestions and the work she did.
I would have no hesitation in using her again, and can highly recommend her services.
Jennifer has a very honest and friendly manner which makes working with her flow very easily.
Her editing skills are clear and very helpful. Thank you, Jennifer, for your part in my journey towards publishing.
Soraya, Author, Shining Through, from Grief to Gratitude
I love working with Jennifer, she is proactive and consistently enthusiastic!
Great work and keep it up!
Nhan Nguyen, author, From Broke to Billionaire.
I went to Jennifer because I knew she could help me with her editing services. I needed to have my book 'INCARNATION – at a glance' edited. She made sure to carry out this work in a comprehensive way.

In my opinion, Jennifer's editing services give you openings to deliver the best of you.
---
Older Testimonials from Power of Words – copywriting (2009 – 2013)
Jen was able to take my ideas from paper and put them into a form which made sense and flowed. Her attention to detail, helpful suggestions and proactive approach made this process much quicker and easier for me.
She added words and phrases to my draft and condensing the writing to make reading easier. This is the first time I have created a website and used copywriter services. I would definitely recommend Jen and would use her myself for anything else I may need. Thanks, Jen
– Rebecca, Raw Beetroot Organising, Brisbane
Before working with Gino and Jennifer I was so frustrated… Then I met Gino and Jen. They have made the online world so much easier for me and all with a minimum of fuss – it just gets done and is value for money. They care about the quality of their work and have guided me on what I need to do to get more traffic and make it easy for a potential client to enquire about my services.  They have also been great supporters and recommended clients to me, which is great. It has also been easy working with a team who work so well together, for example when I write my content Jen checks it and passes it on to Gino to move onto the site which means I get both function and form out of my website.
– Jane Anderson, Inside Out Coaching, Brisbane
With Jen's great listening skills and ability to investigate my industry, she was able to help me understand what I needed to have in my website for relevancy in my business needs.
– Penny Leader, Leverage, Redcliffe
Jennifer from Power of Words has worked hard to get our website just right. Thanks.
– Garry Wolnarek, AZ Tax Advisors, Redcliffe