Helping You Make More Money from Your Content Publishing
Power of Words, a publishing support, copywriting and editing service, now makes it easy for specialists to stand out as an expert.  
As your 'Secret Support', we help specialists and coaches form a Book, Workbook, Guide, or White Paper that will educate and persuade.
As a long-time copywriter and editor, with other editors to hand, we know what to do to take your content to the next level!
Jennifer will also give you valuable advice, tailored to your publishing goals.  Some of our clients' goals that we have supported are:
Write a paperback book that's educational and persuasive
Create an effective lead offer (e.g. free download) and get more subscribers
Create other written workbooks, cards, and assets (get design and artwork) that will allow you to run workshops or online training.
With emphasis on a clear message and simple marketing advice, a consultation with Power of Words is likely to lead to a strong marketing strategy for your whole business. 
Or simply get a full fee proposal for your content writing and more.
Editing to a Goal 
With your new publications, it's not just about fixing the grammar. Our guidance on books, lead generating reports, and client guides will help your ideas and techniques connect with readers at a deeper level. And that's powerful!
Earn More from Publishing
Business people, we also want your new book or digital content offers to earn you a profit… so, all services keep your budget in mind. We'll work on the required outcomes and wording improvements until it is exactly what's needed for your audience.
We can quote for design/artwork that meets your budget—or you can access Guidelines in Book Creation Success Club. 
Let's have a free, 30-minute chat about your needs.
If empowered to write your content, Power of Words' hard-working owner comes up with creative ideas to suit your niche audience. We research the competitive marketplace, use keyword tools, and understand what UVP (unique value proposition) your offering has.
Our aim with content writing is: 'create awesome content, consistently, that beats the competition'.
See projects we've done for service providers like you. (Or ask for a sample from our list of 100 projects). We are WordPress savvy.
Our Services
Services Offered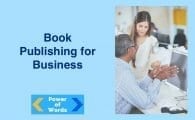 Book Editing
Marketing Training
Client Testimonials
What Our Clients Say
"Your editing is exactly what I needed in all the many areas that I did not know enough. I am so very grateful to have found you. I know the book will be much improved as a result."

"Thanks for the manuscript, the Bibliography looks great, you have done a magnificent job.  In terms of time you spent on the drafts, it was in my opinion, value for money. You were willing to take on work from someone with an appalling grasp of the fundamentals of English grammar, someone who frequently strayed from the subject at hand, someone who didn't understand the publishing process, basically someone who needed a lot of guidance.  You did all that and more in good humour and spirits, thank you, it has been an honour to work with you." 

"Jen was able to take my ideas from paper and put them into a form which made sense and flowed. Her attention to detail, helpful suggestions and proactive approach made this process much quicker and easier for me.

Jen was able to add words and phrases to my draft and condense a lot of the writing to make reading easier. This is the first time I have created a website and used copywriter services. I would definitely recommend Jen and would use her myself for anything else I may need. Thanks Jen"
Call for an initial chat. 
Book in for a discovery call to discuss your project scope, budget, timeline and goals.