Two Articles: If you're in Consumer sales, read "How to Write an Irresistible Lead Magnet".
If you're in B2B, "How to Write an Irresistible White Paper" is below this one.
Most people who come to your website don't buy on the spot. In fact, something like 97% don't. So you need to keep them interested and give them strong reasons to enrol in your email list. But how do you do that if you don't have a goods store? By creating a lead magnet, of course!
---
A lead magnet is basically a piece of content which is attractive enough that it tempts people to subscribe to your email list. The main idea here is that the lead magnet should be tempting…
Wondering how to get people to subscribe to your Lead Magnet after a webinar, or on your website? There are ways of making this process easier, not to mention making the lead magnet itself irresistible. More on that soon.
First, what kind of things can you offer? A Lead Magnet is a digital product (book, ebook, software, PDF etc.) which you give away for free that has your contact information embedded in it. That way, each person who downloads becomes your new lead (or prospect).
Time to Reflect on the What and Why of Lead Magnets
You need to ask yourself why you want people to subscribe. Do you have something valuable to help them? Do you want their trust? Have a gifting mindset rather than a sales mindset in order to earn their trust.
Incidentally, the most common lead magnet is a free gift. Something full of valued information; an infographic, a quiz result, or a video series that you offer in exchange for a visitor's email address. Even 7-day challenges can be a lead magnet!
The best lead magnets are tailored and relevant to your audience. You know that, right? If you're offering a lead magnet like "7 Steps to Creating a Blog", and only 2% of your subscribers are bloggers, then you need to change it.
Here are some factors that will help you create an irresistible lead magnet:
Research and find out about your ideal customer avatar. This is the type of person you want to attract to your business and who would most likely become your customer if seeing this particular offer from you. What are his or her interests? What does he or she struggle with? What does he or she need and want? Read public group posts and customer reviews to find out.
Create an irresistible offer that will solve one of the problems identified in step 1 above. Or something that will bring joy and value into his or her life through a better experience.
Outline those Steps to Create a Lead Magnet Again, Will You?
You want to use all the gathered information to create the most relevant and targeted lead magnet.
Let's say that your ideal customer avatar is someone who's interested in starting a blog. They'd like to write about their passions and make money from their blog. You could create a free ebook that shows them how to set up their own blog with the most popular tools on the market such as WordPress or Blogger or Wix.
Then you need a simple yet effective lead capture form. A couple of bullet points on the key takeaways and a captivating headline should do the trick. Install the form on highly engaged places, like your blog, or standalone in a web page ready for advertising.
Another way to do lead generation is with an online step-by-step quiz, which is the topic of an upcoming article I'm writing. Don't get lost in the technology, just get a tech-savvy marketer to install it for you.
---
Growing a mailing list is a strategic process. You need to figure out what works best for you and your business. It takes good planning and creative content. Remember, if it doesn't seem like something your target audience would want, it won't work well as a lead magnet.
Using highly-valued book lead offers can be an effective strategy, but be careful not to spend too much if you don't have a highly-priced program in the funnel. EBook Authors, you can read Tip 3: Email Marketing in this post of mine about how to do Author-First Book Marketing to ensure your freebie marketing is solid.
---
Write an Irresistible White Paper
If you're looking to write a white paper for your business, it's important to know that the way you present your information can make or break whether or not someone will read it. A reader who is presented with a clear, concise and compelling story will be more likely to stick around and get what they need from the document. However, if the script is too long or hard to follow, readers may get frustrated and give up on their quest for knowledge.
Here are four tips for writing an irresistible white paper:
1)         Make sure your title grabs the reader's attention right off the bat.
2)         Use short and medium-length sentences that are easy to read and understand.
3)         Keep paragraphs short so that readers don't get bored with endless text on one page.
4)         Use bullet points instead of paragraphs whenever possible because they're easier to read quickly without getting bogged down in too much detail at once; this also makes it easier for readers who skim through documents while skimming through documents rather than reading every word carefully (which is pretty much everyone).
What if you don't have time to write white papers?
If you're a B2B company that wants to provide white papers for your clients, but you don't have the time or resources to write them yourself, why not hire a copywriter?
As a professional writer, I can help you create white papers for business and professional services that will:
Attract new customers.
Increase sales.
Make your brand more credible.
Showcase your expertise in the field.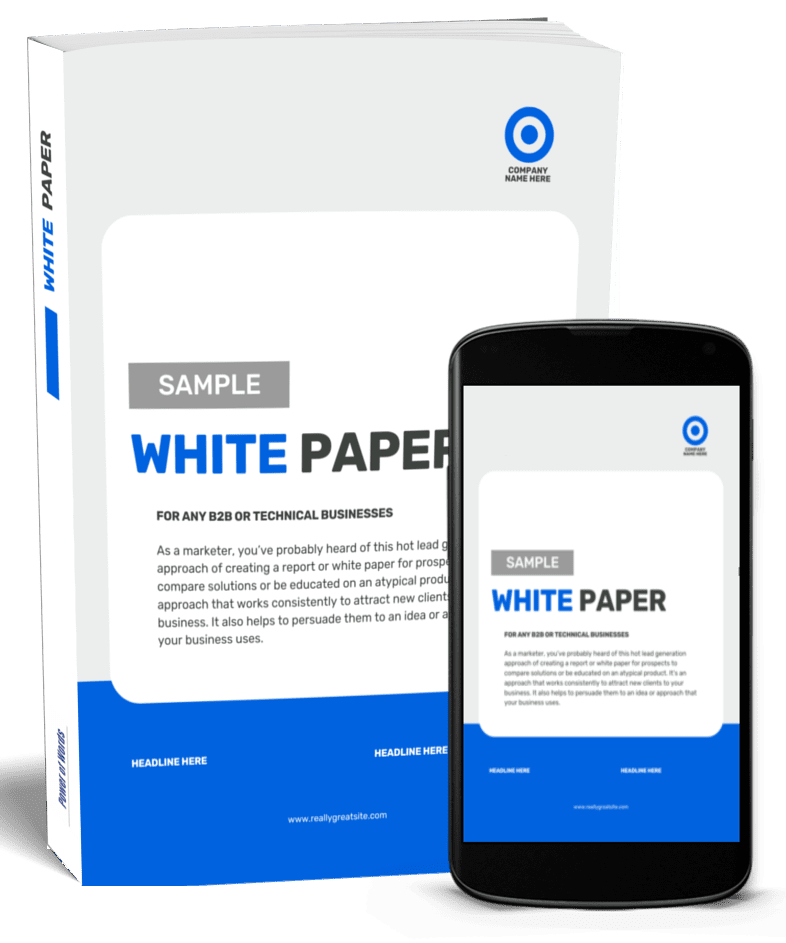 White papers are an excellent way to get your company's information in front of potential customers and prospects. They can offer information on everything from company history and overarching missions, as long as it's a shared one… to product summaries, benefits, and use cases.
In fact, Michael Stelzner's experience showed that white papers are an effective way to attract new clients and increase sales—but only if they're written with the right tone and from the right point of view.
But what if you don't have the time or resources to create a white paper? Or what if you do have the time, but you're not sure how to write a compelling script for your white paper? Luckily, there are professionals who specialise in this kind of thing: professional writers whose job is to help companies like yours get their message across in an engaging way.
So if you're struggling with how to write your next white paper and want to enquire about it, then contact professional copywriters who can write the perfect script for your white paper. Hire Power of Words, a Brisbane based copywriter and content marketer.